OMGWTF?!? Who would have thought me, LaurenM, would make some PhotoShop 7 brushes. :D

If it's lame or whatever, don't mind me. hehe.

This is pretty basic. Just some netspeak stuff. Could come in handy someday.

22 brushes. don't need to credit..i don't care. just stupid text ANYONE could type. this is for lazy mother fuckers like me. ;)

PREVIEW!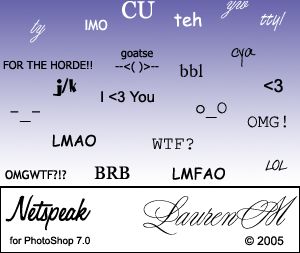 I hope you like 'em!